Post by billbott on Jul 19, 2015 17:19:28 GMT 1
Day 1: Trafford park to Folkestone. 300 miles.
Stayed in the Wycliffe guest house and would recommend it. MCN and a beer on offer as we arrived. Bikes left in the garden behind a fence. Few beers and a curry in the New Delhi and an early night (12.15) will we ever learn.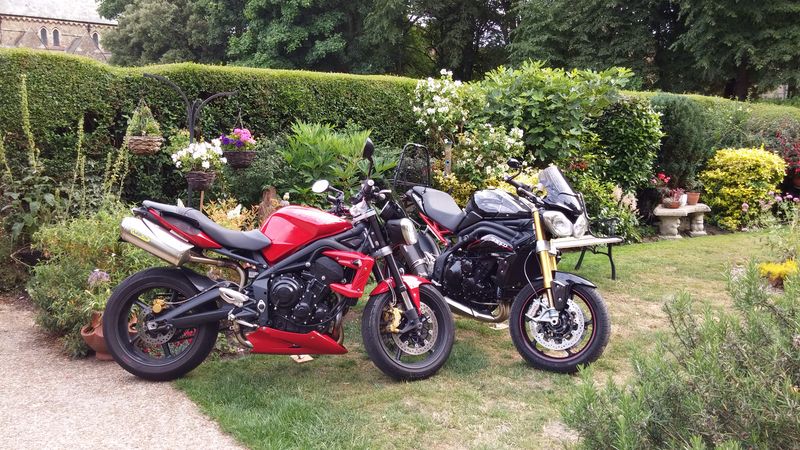 Day 2: Folkestone to annecy. 555 miles.
Woke at 6am (rough) to the sound of 'some git snoring in the next room' according to Boney. It was actually a dove that had been sat on the bathroom window cill all night, I was fine with my earplugs in......
Down to the channel tunnel and a diversion of about 5 miles as there had been some more disruption. Arrived in Calais at 11am English time ' we ain't getting involved with that foreign crap and moving the clock forward an hour!' Boneys words of wisdom.
Uneventful ride down in the sun. Too hot really.
Arrived in annecy early evening and found the hotel no problem. Shorts on and out for a meal and a beer maybe. Annecy is a lovely place, well worth a visit if you wanna impress the FPO. Had a good meal and beers and time for bed. It's been a long day. Annecy by night: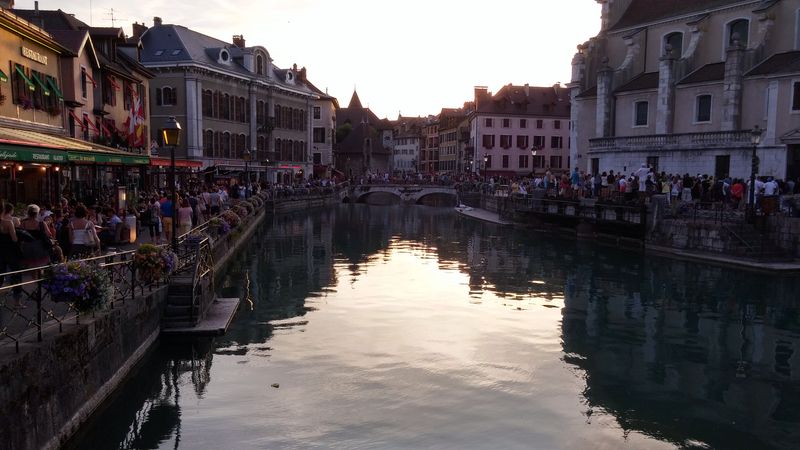 Day 3: we are having a two nighter in Annecy so after a continental brekkie, we are off out toward Mont Blanc without luggage.
Nothing too dramatic but some great roads and scenery. By lake annecy:
You can just see Mont Blanc in the right hand corner: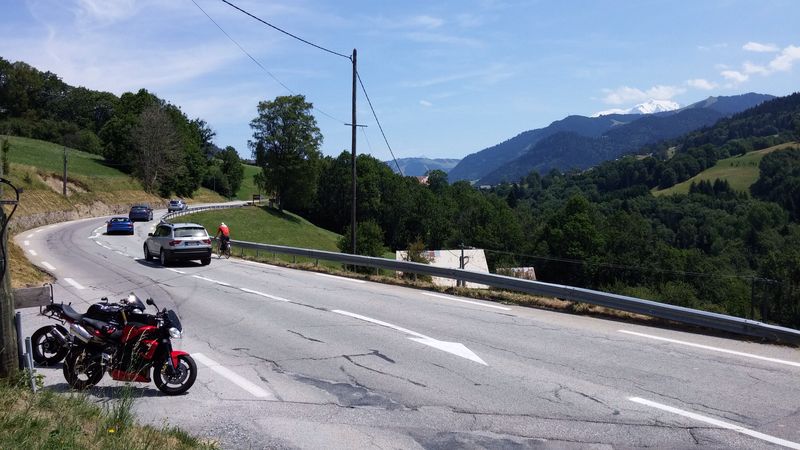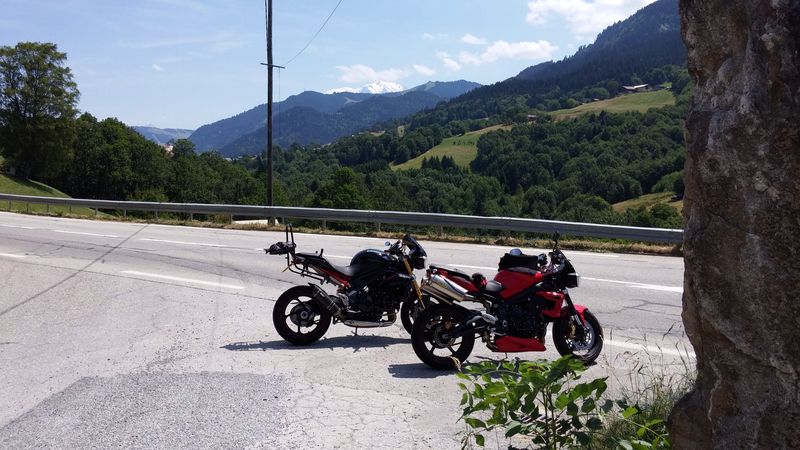 Day 4: Annecy to Lugano, Switzerland
Still massively hot, saw 38.5 degrees on a chemists shop,sign. And I'm in full leathers.
Highlight of the day was the Neufen pass: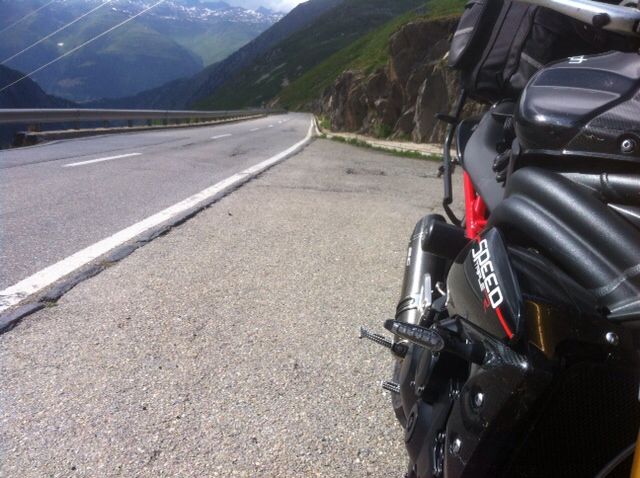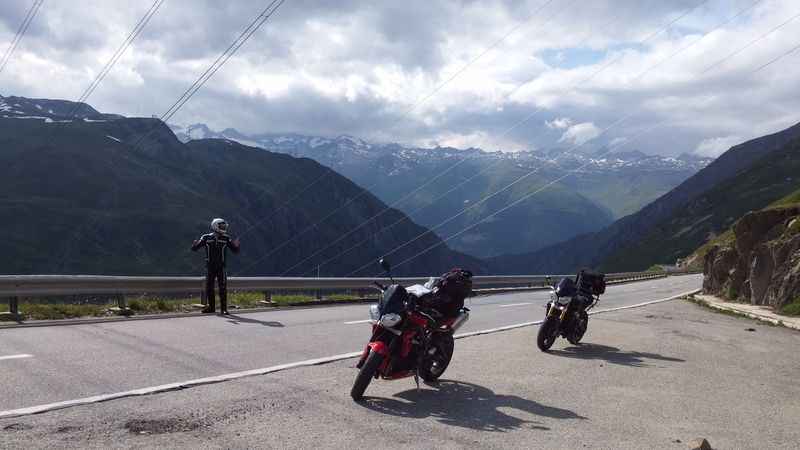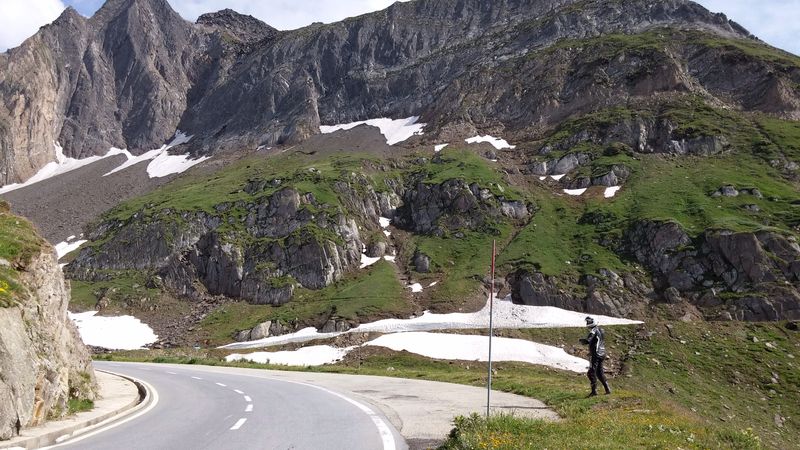 A real trawl into Lugano in the heat and really slow traffic. Took a while but got there at 8pm. Went straight out and had a pizza and two pints each. €100! It's a bit like Monaco, with ferraris and lambos everywhere. Maseratis are like mondeos, one on every corner. And we are here for two nights......
Day 5: recce to look for somewhere to eat and drink later before it gets too hot.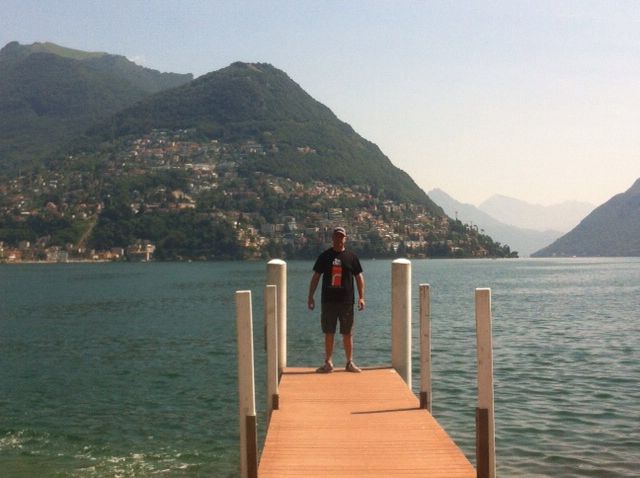 Young lad in a Lamborghini Aventador came past in a walled street, and gave it the beans. Holy S**T it sounded like an F1 car, with popping and banging on the overrun, accompanied by flames!! Had a ride out to a twisty road Boney found on the net, possibly the twistiest I've ever ridden. Even Boney was catching his feet on the floor. This might not sound much, but he only wears size fours....
Nice little cafe on the way up, with a great view and a great ham butty.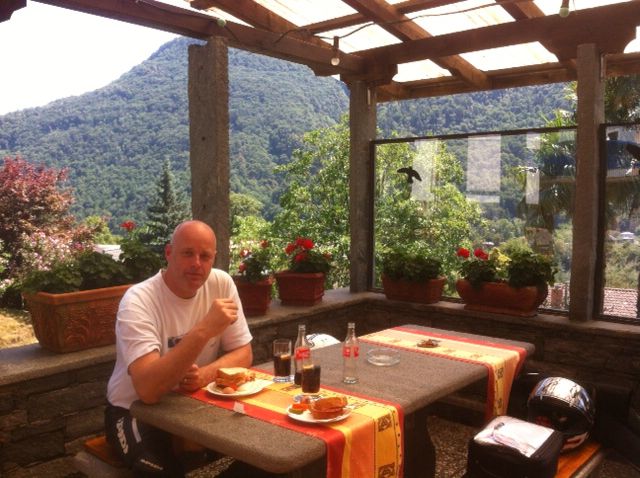 Went out at night and saw a little bar, 50 steps from the hotel. She spoke the queens, so we had two beers which came with a free pizza taster. Guess where we stayed all night?
Day 6: Lugano to Lausanne, Switzerland.
Via the San Gottardo, Furka and Grimsel passes. What a day!! They have erected a sign to commemorate where James Bond stood in goldfinger: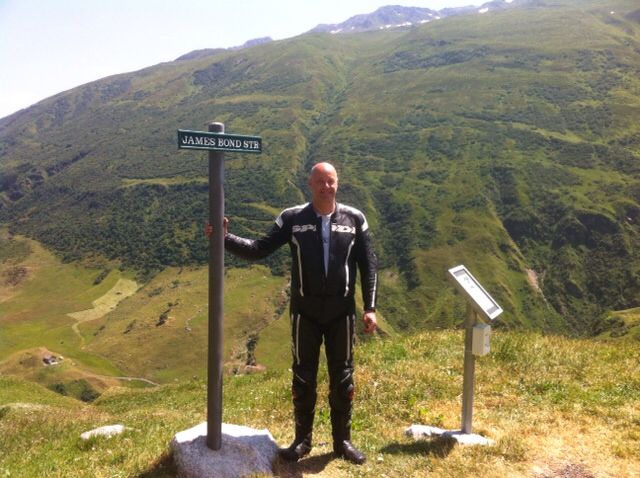 Same spot, 51 years apart: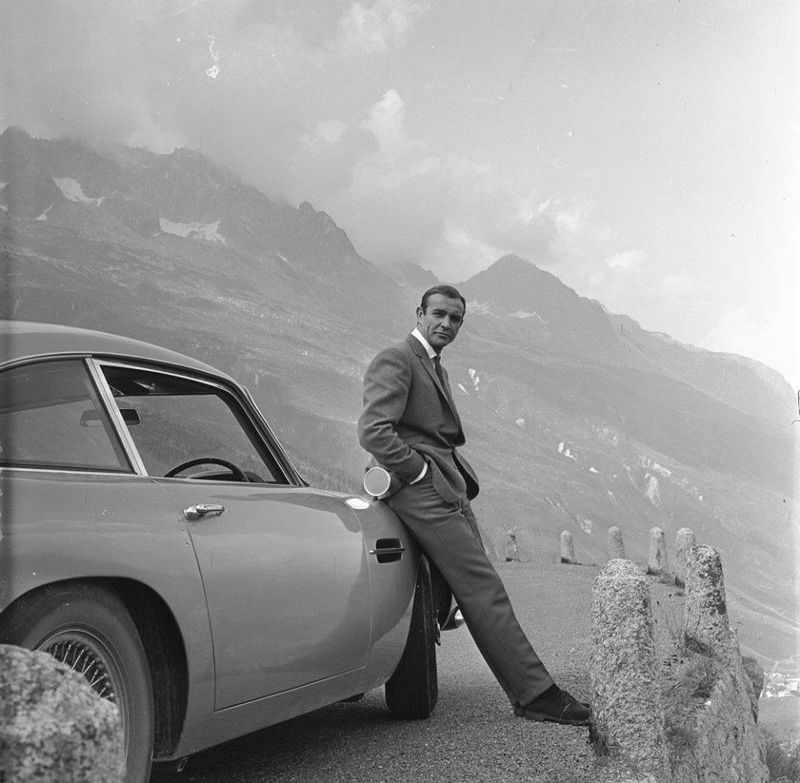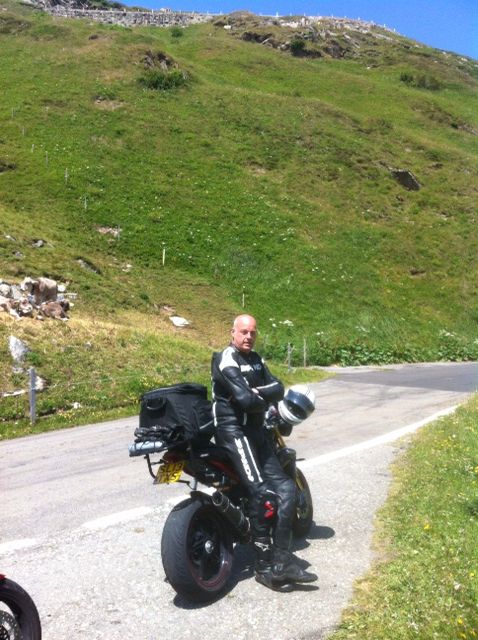 Top of the Grimsel, spot the make......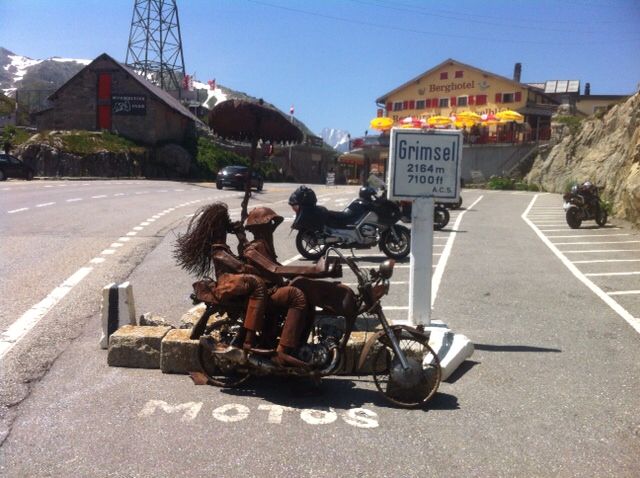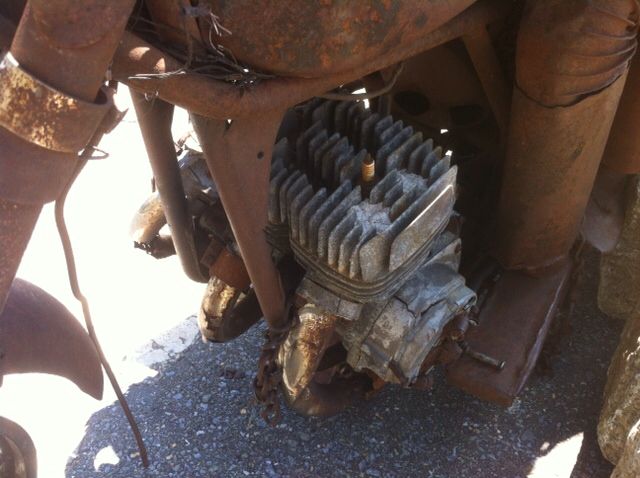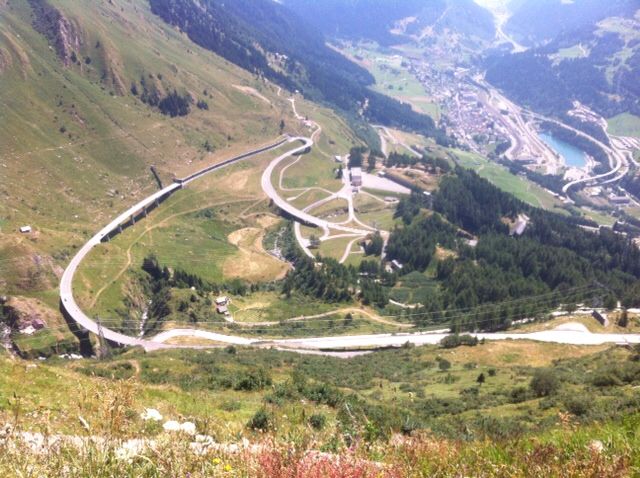 Landed in Lausanne at 7pm after a great day. Hotel manager is a biker so gives us free parking and two beers. Had a Chinese at night then went back for a chat with him as we'd promised too. More free beer.
Day 7: back into France, Auxerre
To be continued .......